Spring is a very busy time in the education community! With so many end-of-year activities, we want to keep you in the loop of what is happening at NOCTI.
Competency Reports
With summer planning on the horizon, it's helpful to remember that scoring data from the 2022-23 school year can be a key component of summer planning activities. Analyzing data at the competency level is beneficial for discussing student learning methods and the overall areas that may need improvement. NOCTI's Competency Report identifies the average number of questions correct for each competency. Imagine how beneficial that can be for educators! The competency summary extract provides the ability to pull data on a variety of filters, resulting in a data extract customized for your needs.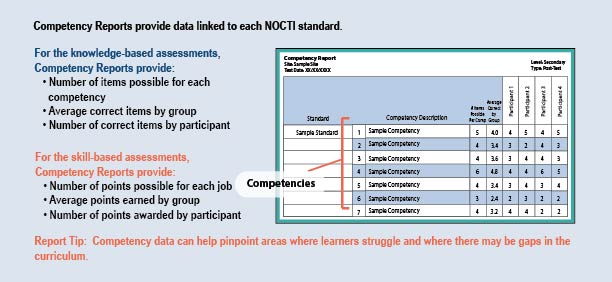 Education Professional Certification for Work-Based Learning Coordinators
NOCTI's Education Professional Certifications are getting noticed! Principles of Work-Based Learning is the newest offering, with two credentialing levels.
Level One is intended for individuals new to the role of CTE work-based learning.
Level Two is targeted to individuals who have more experience with CTE work-based learning programs.
NOCTI recognized the essential role CTE work-based learning coordinators play in creating relationships and coordinating work-based learning experiences for students to effectively and efficiently develop the skills needed to move into the workforce. The development of credentials for work-based learning coordinators became a focus to provide appropriate recognition for these valuable individuals. The credentials include topics such as program planning and development, career development, program start-up, community/school coordination, evaluation, and program environment. NOCTI is seeking pilot test takers for these new credentials. There is no cost to participate in this remotely proctored credentialing opportunity.
New Micro-Credential Titles Released
NOCTI continues to add titles to the Micro-Credential Index. Check out the list of recently released titles:
Child Development Theories
Cleaning Equipment (Commercial Kitchens)
Cosmetology Opportunities
Food Seasoning Basics
Plants and Salads
Preschoolers and Personal Safety
Tree Genetics
Wind Energy Turbine Maintenance
Micro-credentials can serve as learning aids, formative assessments, knowledge checks, validation of competence, or as a means of exploring a particular occupation. All learners can benefit from the opportunity to share a credential earned for a targeted set of skills within their occupational program or career path. Learn more by watching our micro-credential webinar!
NOCTI Video Contest Winners 2023!
The annual video contest is always a fun and exciting time for students. The creativity of each submission highlights the impressive talent among the student developers. The 2023 theme "A Chat with Future Me" did not disappoint. Check out the winners where students showcased what a CTE conversation with a future version of themselves would look like.
Looking ahead, the 2024 theme is "CTE: Changing the Future!" We are looking forward to another fantastic year of creative student-developed video submissions where individuals attempt to imagine what the world of CTE will look like in 10, 20, or 50 years. The contest opens September 2023. Stay tuned for more details.
Survey
NOCTI appreciates customer feedback and values your opinions! With that said, we would like to gather your thoughts in a quick survey to help us determine potential test titles for future development.