Some schools are receiving additional funds based on their students earning certifications. Due to the growing recognition of the value of Career and Technical Education (CTE), workforce training incentives, and dedicated funding channels, students are acquiring high-tech skills and earning industry-recognized certifications, with schools receiving reimbursement for their important efforts. Taking advantage of available workforce development incentives and other funding streams may provide a viable and practical approach to creating a sustainable, self-funding program.
Reimbursement Incentives for Workforce Training
Traditionally, CTE programs rely on three general funding sources:
Federal: The Strengthening Career and Technical Education for the 21st Century Act (Perkins V) provides $1.4 billion in federal funding for CTE education each year. Each state is responsible for managing their allocated Perkins funding.
State: Each state has its own formula for funding CTE. Generally, funding is subsidized by the number of programs or students enrolled.
Local: Local funds include property taxes or funds from member school districts paid to an area career center.
Some states have incentives for students earning credentials in key industry areas. If your state offers reimbursement for certification, your CTE program could be eligible for extra funding. This extra funding could be reinvested in your technical program and used to create a self-funding strategy.
For example, Wisconsin's CTE Incentive Grant Program provides up to $1,000 for each graduate who earns a certification from the approved certification list. For the graduating class of 2022, the $6.5 million dollars of available funding went to 9,214 students in 310 school districts.
Aligning Education with Industry Needs
A key aspect of state-led incentive programs is the need to train skilled workers for industries experiencing labor shortages. According to the U.S. Chamber of Commerce, every state faces an "unprecedented" challenge of finding workers to fill open jobs.
The states most affected by labor shortages are Alabama, Arkansas, Maine, Maryland, Massachusetts, Montana, Nebraska, New Hampshire, North Dakota, Oklahoma, South Dakota, Utah, and Vermont.
Industry sectors most affected by the lack of skilled workers are manufacturing, wholesale and retail trades, education, and health services.
Teaching industry-specific skills in the classroom and validating those skills through a high-quality credential plays a crucial role in building a workforce of skilled individuals prepared for successful careers.
Industry Certification Spotlight: FANUC
FANUC America is one of the most common platforms in automation. Upon entering the workforce, it is highly probable that advanced manufacturing students and robotics operators will encounter FANUC CNC machines or robots.
Paul Aiello, Executive Director of Education at FANUC America, says it's always been challenging to develop talent that's directly aligned to industry occupations. "That's one of the reasons we created an education program," said Aiello. "Our customers, who are employers using our technology, had trouble finding skilled workers. We knew creating a talent pipeline had to start with schools."
FANUC is helping bring industry and education closer together by partnering with over 1,500 high schools, technical training centers, community colleges, and universities to provide training, curriculum, and opportunities for hands-on learning. "It's important for students to learn on the exact same technology local employers are using. That way, they're 100% prepared for the first day on the job and are ready for exciting and rewarding careers."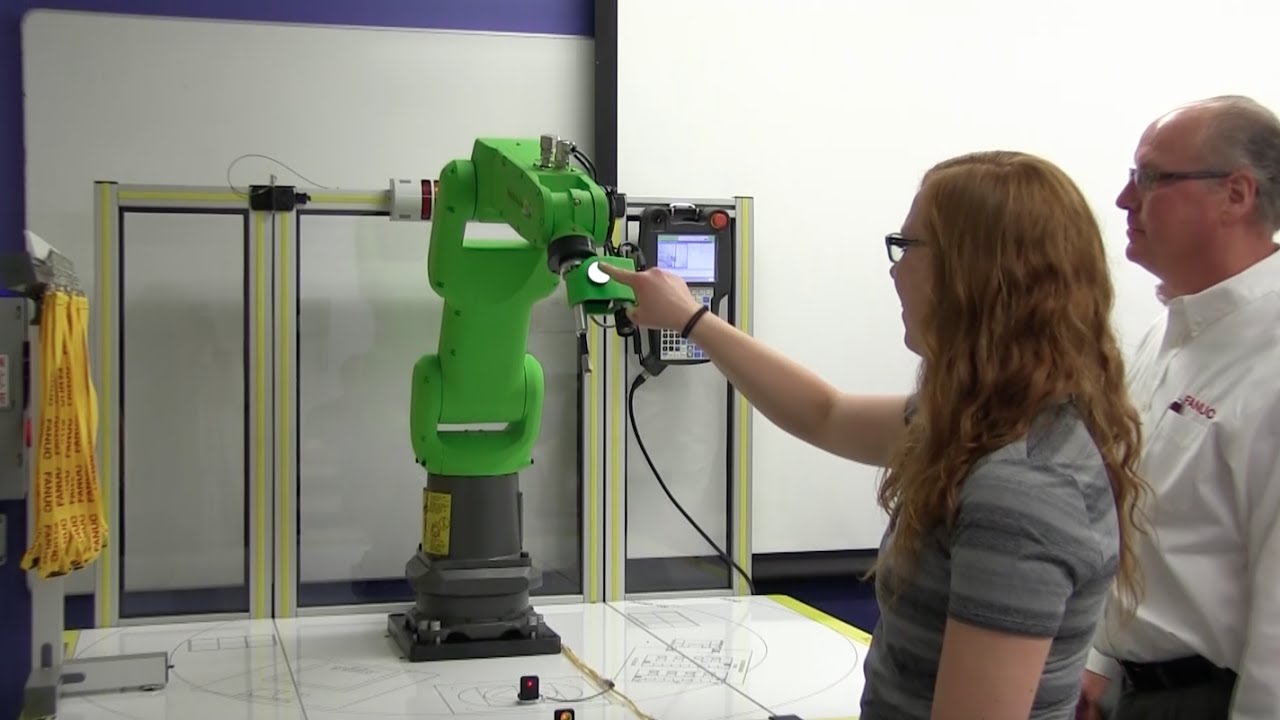 FANUC collaborated with NOCTI to develop stackable certifications for robot operators and technicians. The certifications are eligible graduation pathways in Indiana, Ohio, Tennessee, Florida, and other states. Aiello wishes more schools were aware of their options for certification reimbursement. "There are absolutely opportunities for schools to adopt curriculums that lead to industry-related certifications that they can get reimbursed for."
To explore available incentives and the list of approved credentials, consider reaching out to your state's education or workforce development agencies. Keep in mind that the list of state-approved credentials can vary from year to year, depending on labor market conditions and the emergence of new certifications.
About FANUC
FANUC is the world's leading supplier of automation for manufacturing including robotics, CNCs and Motion Control, and ROBOMACHINE machining centers.
fanucamerica.com/
About NOCTI
NOCTI is the leading provider of industry credentials and resources for CTE programs with more than 55 years of experience in developing, managing, and delivering credential programs to improve and advance the technical education community.
nocti.org