NOCTI's micro-credentials were built by teachers for teachers and confirmed by industry experts. Micro-credentials break competencies into targeted skills and provide short bursts of learning that are tied to industry standards. They measure discrete occupational skills and can be used as a learning aid, knowledge check, formative assessment, validation of competence, or as a means of exploring a particular occupation. And, this is just a few of the ways in which educators have identified to use micro-credentials. Since our world relies on the integration of technology into learning, and particularly through mobile devices, NOCTI micro-credentials were designed specifically for mobile delivery so teachers and learners have 24/7 access to the content and instructional resources they need.
Why Use Micro-Credentials?
A key goal for micro-credentials is to offer learners the opportunity to earn recognition for learning a targeted set of skills within their occupational program or career path. Because micro-credentials can serve as a resource for asynchronous, hybrid, or synchronous learning within traditional CTE, training programs, or many other educational programs, they have a wide variety of uses and are not necessarily tied to a typical school classroom day.
The micro-credentials were designed to be flexible so that teachers can integrate them in a way that works best for their program or classroom.
A.W. Beattie Career Center in Pennsylvania recently used micro-credentials for their students and had this to say, "Our school decided to offer the micro-credential opportunity to seniors in three to four of our programs. This would allow our seniors to use the earned badges in job applications upon graduation and as a brief NOCTI exam review on those topics. We do plan on expanding the offer to more programs and underclassmen in the future."
Other feedback from some of our customers indicates that micro-credentials assist in allowing students to specialize in one area of their occupational program and be recognized for their knowledge of that specialty area. Others are planning to use the basic skills micro-credentials with middle school students to engage them in exploring career choices as they move toward high school. The employability and safety-focused micro-credentials can be used across many programs and age levels and can cross easily into the workplace as a tool for employee learning and improvement. Earning digital badges can help earners feel successful and serve as validation of knowledge, all with digital recognition that can be shared.
Benefits of Micro-Credentials
NOCTI created its micro-credentials to be a teacher-focused resource based on nationally validated, industry-based standards vetted by industry professionals. Because they are accessible anytime and with any device, learners can use micro-credentials on their own or teachers can incorporate them into classroom discussions.
Micro-credentials are a means of exploring a particular occupation and learning or validating a skill set within that occupation. They can also be used for career exploration programs. The benefits micro-credentials provide are numerous, but some specific ones include:
Learners
Earn recognition for small skill achievements
Use independently of classroom work
Control individual learning pace
Preview a career field of interest
Teachers
Provide versatile content delivery for learners
Use as a learning aid, formative assessment, or for individualized education
Incorporate into learner exploration programs
Offer to learners who can't spend full-time in a program
Schools
Ramp up modular and competency-based credentialing content
Promote CTE to lower grades
Use with career guidance
Incorporate modules as part of CTE career day activities
The Department of Career and Technical Education in Katy, Texas is piloting the use of micro-credentials in several CTE programs. The pilot includes 40 CTE teachers representing seven different program areas: health science, veterinary assisting, child development, manufacturing, accounting/finance, business education, and cooperative education. The intent is to implement micro-credentials into the curriculum to validate the student skill set using a third-party assessment. Additionally, teachers will use the micro-credentials to demonstrate student progress throughout the course.
In addition to the many benefits of implementing micro-credentials, another key consideration, which actually is a benefit of all NOCTI credentials, is the score reporting and data provided post-assessment. As part of the micro-credential process, learners will take a credentialing assessment proctored by their teacher. The assessments are scored and results are available to teachers in the score report tools in the Teacher Resource Center. The score reports provide individual and group scores total scores and scores for each targeted skill. This information is meant to be shared with learners to help them understand what they did well and where they may need more work.
Structure
Micro-credentials are meant to do a number of things, but the most important thing is that they are all anchored in validated and expected competencies. All NOCTI micro-credentials are organized based on their cluster or industry, like Health Science, Architecture & Construction, etc. Some micro-credentials are suitable for more than one cluster and thus are labeled "Cross-Cluster". From here, a specific standard or skill is identified along with associated competencies. In the example below, you can see the process used to determine the "Use of Microscopes" competency.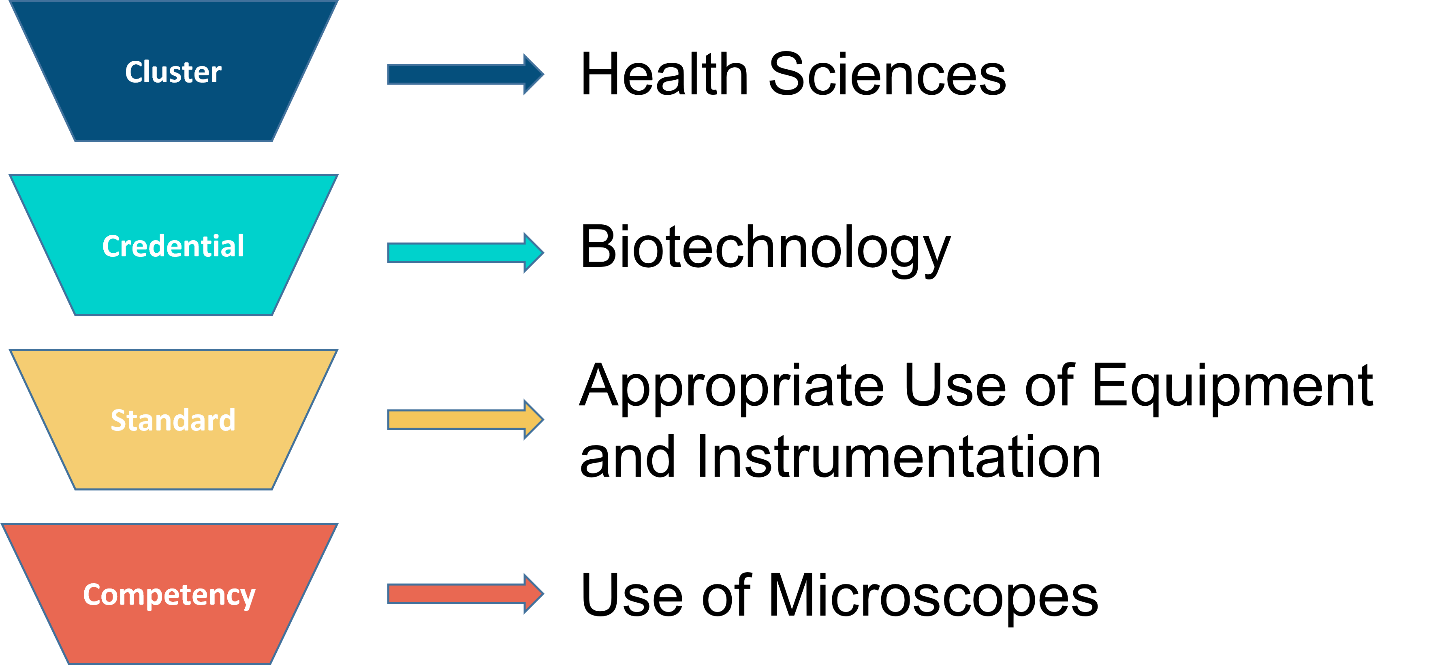 Each competency is broken down into three to five targeted skills and accompanying instructional resources are developed for each targeted skill to help a learner gain the necessary knowledge. These resources include short instructional videos, key terms, knowledge checks, and links to important and related information. Every micro-credential includes a credentialing assessment with questions linked to the targeted skills to accurately measure and assess a learner's comprehension and knowledge in each area.
There are multiple competencies, standards, and credentials available under a cluster like Health Sciences which gives teachers the ability to incorporate multiple credential opportunities into their programs.
Recognition
Learners who pass the credentialing assessment will earn a digital badge to recognize their success. NOCTI's SkillBadge Locker is a password-protected site where learners can store and manage their badges, import badges earned outside of NOCTI, and create collections based on badge similarities. The SkillBadge Locker also allows for the sharing of badges through social media or as part of a digital resume.
When digital badges are shared, the metadata linked to the badge can be accessed by the viewer, like an employer viewing a digital resume. That metadata includes important details such as the name of the badge, background information on the badge issuer, and criteria for earning the badge, and includes links to the external standards to which the badge is aligned.
The SkillBadge Locker is accessible to learners even beyond graduation allowing them to always have access to their badges.