For many teachers and administrators, summer months are spent reviewing curriculum, creating lesson plans, gathering classroom supplies, and analyzing last year's data to assist with planning for the upcoming year. Having the right resources available helps make that planning more efficient and productive. NOCTI provides tools and resources that can help make summer planning for career and technical education (CTE) programs as efficient as possible.
Blueprints
Blueprints are more than just a preparation tool for credentialing. Based on national industry standards, the detailed breakdown of standards and competencies can be used as a framework for lesson planning and for guiding the classroom syllabus, providing students insight into the skills and competencies they must learn.
For example, the Carpentry blueprint lists the following areas covered in the exam:
Safety 15%
Tools and Accessories 9%
Blueprint Reading and Estimation Skills 18%
Foundations, Forms, and Concrete 7%
Rough Framing 16%
Exterior Finish 13%
Interior Finish 13%
Carpentry Related Mathematics 9%
For each area, the Blueprint identifies specific competencies. For Exterior Finish, the learner must be able to:
Identify and install cornice and trim
Calculate and install roofing
Identify, prepare, and install windows and doors
Calculate, lay out, and install siding
There are many ways in which NOCTI blueprints can assist CTE programs. Reviewing the content can assist with career exploration and provides an overview of the essential skills for a particular occupation. Blueprints should be incorporated into the communication plans for parents/guardians, occupational advisory committees, and local business partners to increase awareness of the credentials and the knowledge and skills students are learning in the program. The standards and competencies are a valuable resource when structuring courses and course content for new CTE programs.
All NOCTI blueprints are available for download in the Blueprint Index and can be searched by keyword, category, career cluster, and partner affiliation.
Instructor Prep Packs
Instructor Prep Packs are available in the Teacher Resource Center for all skill-based credentials. This is an especially great resource for planning performance testing as it includes lists of materials and supplies needed to administer the hands-on portion of the credentialing assessment.
For example, to earn the NOCTI/ACF Culinary Arts Cook credential, students must pass a skill-based assessment.
Prepare Sautéed Chicken with Fine Herb Sauce 27%
Prepare Rice Pilaf 23%
Prepare Steamed Green Vegetables and Carrots 25%
Prepare Salad Course 25%
The Instructor Prep Pack for this credential lists the tools and materials test-takers will need to complete the skill-based assessment.
Digital Study Guides
Consider when to incorporate digital study guides into the course structure. With an easy-to-access format, digital study guides contain a more detailed breakdown of the credential's content, study checklists, and access to practice questions.
The study guides can be used to help students monitor their learning as they check off competencies they feel they have mastered and flag those where they may feel more instruction is needed. Instructors can view the student responses in the teacher dashboard to monitor trends across the class. This type of student input can assist in adjusting instruction to address areas where multiple students may need assistance. The teacher dashboard also provides an overview of what the student sees in their portal, ideas for incorporating study guides into the syllabus, tracking of student use of the guides, feedback on student practice question responses, and more!
Micro-Credentials
Coming Fall 2021, NOCTI's micro-credentials provide a new learning resource for the NOCTI community and beyond.
NOCTI's micro-credentials provide the opportunity for learners of any age to confirm their familiarity with a discrete, targeted set of knowledge and skills within an occupation. Based on nationally validated, industry-based standards and competencies, the content is assembled by CTE teachers with vetted industry experience. These micro-credentials can serve as learning aids, formative assessments, knowledge checks, validation of competence, or as a means of exploring a particular occupation. All learners can benefit from the opportunity to share a credential earned for a targeted set of skills within their occupational program or career path. Micro-credentials can also serve as a resource for asynchronous, hybrid, or synchronous learning whether within traditional CTE, training programs, or for other specialized educational programs and populations.
Each micro-credential consists of three to five targeted skills. Learners access associated learning resources and knowledge-check activities through NOCTI's Learning Management System (LMS). Instructors monitor progress through their LMS access and the Teacher Resource Center. A short instructor-proctored assessment is administered through NOCTI's online testing system at the completion of the micro-credential. Success on the credentialing assessment results in learners earning a digital badge. Learners can earn multiple badges over the course of their learning allowing them to share their accomplishments as new skills are mastered.
Micro-credentials are a great way to assist with learner motivation and provide an opportunity for learners who may not be able to complete an entire program with a way to recognize the skills they have learned. Watch for more information in the coming weeks as we prepare for the micro-credential launch!
Review Data
Don't forget to review last year's score reports for insights on how to help future students succeed. Each score report contains a wealth of data. Here are two tips on how to use score reports:
Use subscores (scores for each standard and competency within the assessment) to pinpoint areas where students may need more practice or instruction.
Use pre-test and post-test scores to chart the growth of an individual student or an entire group. If a pre-test is administered, the score report will include the percent change between the pre-test and post-test scores.
Are you in the midst of post-COVID recovery and wondering what happened to technical competence in your programs? NOCTI's data reports can help to tell the story. Schools that maintained pre- and post-test scores are one step ahead in exploring the instructional impact of the COVID-19 pandemic. Looking back to comparing data from previous years provides the baseline. Using that same data to look forward helps design the future.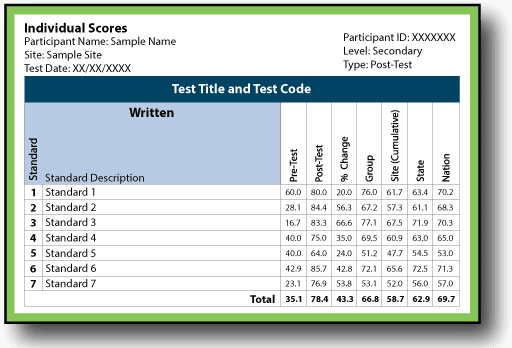 Workshops with NOCTI
NOCTI is dedicated to supporting teachers as they educate CTE students and prepare them for successful careers. NOCTI offers professional development opportunities for teachers and administrators. These onsite or virtual workshops may cover topics like effective CTE classroom management, instructional planning, tips for developing lessons, and more. Reach out to us if your school or state is interested in conducting a workshop.
Other resources you may be interested in:
Watch On-Demand Webinars. We answer common questions, provide resources, and spotlight key topics in CTE.
Read Putting Your Data to Work. This book explores various aspects of data-driven improvement in instruction and targets the importance of gradient objective analysis of credentialing assessment data.